If the blower motor does not function, fuses are blown, or relays are melting, you may have to replace the blower motor relay.
The blower motor relay is the electrical switch that is used to supply the power for the vehicle's blower motor. The blower motor is the component responsible for pushing air through the vents of your vehicle's heating and air conditioning systems. Without it, the AC system will not be able to circulate the heated or cooled air. The blower motor relay controls the current used to power the blower motor, and is subject to the constant on and off switching. Over time, it will eventually wear out. When the blower motor relay does begin to fail, the vehicle will usually display a few
symptoms that can alert the driver of a potential problem that should be serviced.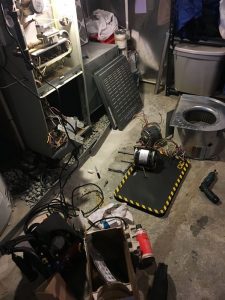 1. Blower motor does not function
One of the first symptoms of a problem with the blower motor relay is a blower motor that does not function. As the relay is the switch that supplies current to the blower motor, if it fails internally, then power may be cut off from the blower motor circuit causing the motor to no longer function.
2. Blown fuses
One of the first symptoms of a bad or failing AC blower motor relay is a blown AC blower motor relay circuit fuse. If the blower motor relay develops any sort of problem that hinders its ability to properly limit and distribute power, it may cause the blower motor fuse to blow. Any sort of electrical spikes or excessive current from a bad relay will blow the fuse and cut power in order to protect the system.
3. Melted relay
Another, more serious symptom of a problem with the blower motor relay is a burned or melted relay. Relays are exposed to high current loads and can sometimes get hot when they develop problems. In serious cases, the relays may heat up to the point where the interior components and plastic housing of the relay will begin to melt and burn – sometimes even causing damage to the fuse box or panel as well.
Since the blower motor relay is essentially the switch that directly controls power to the blower motor, the entire AC system will be left unable to distribute its cooled or heated air if the relay fails. For this reason, if you suspect that your blower motor relay is having a problem, have the vehicle's AC system diagnosed by a professional technician, such as one from Vasi Refrigeration. They will be able to determine if the car will need a blower motor relay replacement, or another repair, to bring full functionality back to your AC & Heating system.
DON'T DELAY YOUR COMFORT ! Call Vasi Refrigeration 781-526-1637 or Contact Online
Bad or Failing Blower Motor Relay