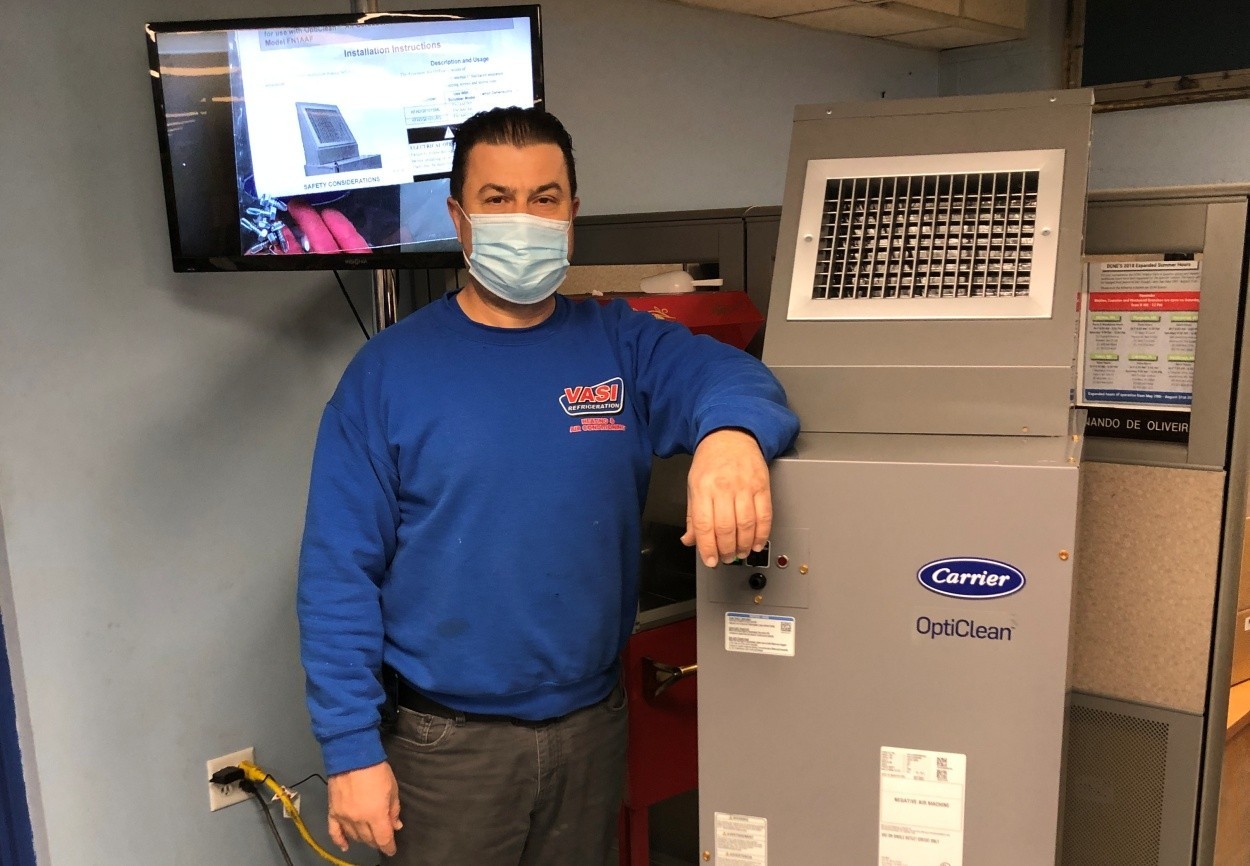 Dual-Mode Air Scrubber & Negative Air Machine
Air Scrubber rolls easily into any room and plugs into a standard electrical outlet to quickly help improve indoor air quality in your home as well as in commercial applications such as schools, dentist offices and other commercial applications. It uses 99.97% efficient, long-life (~40,000 hour) HEPA filters to remove particles as small as 0.3 microns, then discharge cleaner air back into the room. Ideal for your home or a wide range of commercial applications, including K–12 classrooms, restaurants, construction sites, dentist offices and open-air, temporary medical facilities.
Negative Air Machine — helps convert normal hospital rooms into negative-pressure airborne infectious isolation rooms (AIIR) by adding a vacuum effect to the HEPA filtration capability. Designed to ASHRAE Standard 170 for Ventilation of Health Care Facilities.
Pre-Installed Filters
• The OptiClean Air scrubber ships with two filters pre-installed for your convenience: a minimum MERV 7 pre-filter and a HEPA filter.
• The minimum MERV 7 pre-filter recommended replacement is 60-90 days and should be available locally
• The long-life HEPA filter provides approximately 40,000 hours of operation, or four years, under normal operation and maintenance1
Filter Alert/Pressure Indicator
• A red light illuminates when it is time to check and/or replace one or both of the unit's filters.
• A green on/off switch illuminates when the unit is on and operating
Product Highlights
99.97% efficient, long-life HEPA filter removes particles as small as 0.3 microns
Standard MERV 7 or higher pre-filter
Minimum 200 CFM, maximum 1500 CFM
Meets or exceeds the ASHRAE Standard 170: Ventilation of Health Care Facilities
HEPA filter rack and sealing design meet air leakage requirement
Vertical design for smaller footprint compared to many competitors and can be mounted and operated horizontally when necessary
Portable and adaptable to nearly any appropriately-sized location
Heavy-duty, lockable casters for easy transport
Red lighted indicator to alert user when filters are overloaded (generally means pre-filter requires replacement)
Green on/off switch illuminates to verify when running
3-second motor start delay
3-speed selector switch on 006 and 015 models for various air flow ranges
10-foot long power cord with strain relief
Exhaust transition plate to standard 10-inch round (005/006 sizes) or 12-inch oval (015 size) duct included
Galvanized steel, pre-painted cabinet is fully insulated
115V
UL® listed
One-year limited warranty
The quality of the air inside K-12 classrooms and other indoor spaces like restaurants, construction sites, dentist offices etc, has never been a more critical issue.
DON'T DELAY YOUR COMFORT! Contact Vasi for all your HVAC needs!
Dual-Mode Air Scrubber & Negative Air Machine